G & F Trucking Leasing is a transportation company that provides a range of freight services for commercial and industrial clients throughout the Midwest. We are primarily engaged in trucking or transfer services with storage options, for freight generally weighing more than 100 pounds.
G & F Trucking Leasing operates a variety of equipment, such as forklifts and an overhead crane. We offer warehousing, transloading, storage, sheet handling, shipping and truck repair services. We maintain our own fleet as well as offer the following repairs and maintenance services:
Towing
We will tow for our own drivers and our customers.
We have a 30 Ton Hydraulic Wrecker (Big Bird).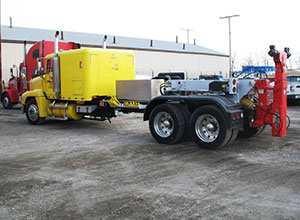 Questions?
We are happy to give you a detailed report on where everything will be along the way.